I title this "part one" because I am neither foolish nor focused enough to try to compose all of what encompasses reflooring an RV into one post. This will probably be at least a three-part series, ugh maybe more.
The original floor in the Starcatcher was carpet...
Isn't it pretty?
In an RV, this is a terrible idea. It's for traveling, for God's sake. You're purposely driving it from one dirty place to another. It cannot possibly hold up to the amount and variations of mud and particle dust that will be accumulated across the country.
We're going to do the only sensible thing, and rip it out. It's raining today (and has been for the past few days), so for now, I'm wanting to compare flooring options until I can attack that 40-year-old fiber.
Now, I like the atypical, so I'm interested in alternative flooring options that could have some potential.
A fat Sharpie and some imagination were all this artist needed. Ink on PVC vinyl.
Pennies on this bathroom floor in Texas...
and this is amazing...done with vinyl floor tape.
Here is a floor made with an aerial digital photograph printed onto vinyl sticker.
Besides these very unusual options (and I am seriously considering the giant photograph on vinyl), it looks as if my best traditional flooring options are as follows, with their pros and cons:
Vinyl: Really not being seriously considered as a flooring option for us because it's not a natural product, but vinyl flooring is staying in the running because it's so damn cheap.
Vinyl is an inexpensive option, but not very exciting or natural.
There are countless options and the price is unbeatable, but it remains a rarely-discussed (if at all) flooring choice because it's a PVC resin made from chlorinated ethylene. I found some at the home improvement warehouse around the corner from us for .39 per squre foot and some slightly nicer for .48 per square foot from another home improvement warehouse just down the street from it, so if we get super broke it's something I'll look into - but for now I'll probably stick with another option.
Cork: Super gorgeous cork flooring is durable, lightweight, versatile, sustainable, ecologically friendly, does not leech chemicals, and with proper care can last forever.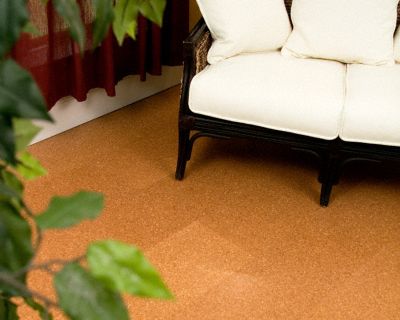 This is the type of cork floor we're looking at.
The one downside is that I don't particularly like the slight color variation in tiles that causes the higgledy-piggledy sort of design you see here. It's not the lighting or anything either - there are several customer images of this style number and the color variations are all the same - slight, but obvious.
This is the only style number I'm considering because of the price of the other types. Most cork flooring is around $3.50-$5 per square foot - and while the area of flooring I have to do IS super small (under 80 square feet), I still want to try to avoid high prices if possible.
Linoleum: Priced about the same as Cork but with more vibrant color options, linoleum is made from linseed oil, pressed cork fiber and limestone dust (among a few other natural components) and is pressed onto a jute backing. It doesn't leech chemicals and has always been sustainably processed.
Marmorette Linoleum
The two most common types found are Armstrong Marmorette Linoleum and Johnsonite, with Johnsonite offering much more color options for around 1.5x the price of the Armstrong. Johnsonite is only made from about 98% renewable materials and only about 76% of those are sustainably processed.
Marmoleum: Made from recycled materials, Marmoleum falls pricewise slightly higher than Linoleum and probably close in price to Johnsonite.
Durability and beauty are both unmatched for Marmoleum, but beware of shady online dealers.
A much wider color palette makes Marmoleum a fantastic option, but the exclusive flooring comes with a caution: several of my friends ordered this flooring online and were sent defective flooring and then treated quite poorly. Refunds were refused and issues still persist. Ordering from a reliable website should eliminate these problems, and the floors' durability will reportedly outshine that of nearly any other flooring.
Bamboo or Wood/Laminate: Again not really being considered for our RV, Bamboo, wood, or laminate wood flooring is an option for many out there.
Wood in an RV can be beautiful.
Wood isn't exactly high on the list of eco-friendly options, as it's generally not sustainably harvested. I'm probably also not particularly patient (or skilled) enough to install wood flooring, which is something of an art. That being said, I do love the look of these floors and have given some thought to them - it would have to depend on how much assistance I can get.
All in all, each of these will come down to budget for us (and so many others). Factors to consider:
-square footage
-amount of use
-durability
-longevity
-performance in various weather and elements (dirt, snow, rain, water, pollen, mud, etc).
-ease vs complexity & time consumption of installation
-practicality
-and of course, magical trippiness!
I'll be weighing these options for several weeks to come, so any input is greatly appreciated!
Keep on tripping!
~Jessica